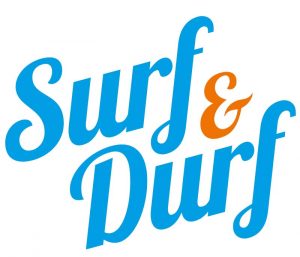 Skydiven en Surfen
Surf & Durf is de Frankrijk Special van Airboss. Twee weken lang een adrenaline belevenis waarin je leert skydiven en surfen aan de Atlantische kust van Frankrijk. De combinatie van de twee elementen: lucht en water, staan garant voor een onvergetelijke vakantie in Mimizan, Frankrijk.

Surf & Durf is een samenwerking tussen Airboss en Mimizan surfschool Pura Vida. Pura Vida is de meest relaxte surfschool van Mimizan.


Eerste week: Durf – Skydiven bij Airboss
In de eerste week leer je skydiven bij Airboss. Wij gaan jou opleiden volgens de vrije val methode, Accelerated Freefall (AFF). Dit is een moderne, veilige en super leuke skydive opleiding, waarbij wij je persoonlijk gaan begeleiden.

Je zult zien dat je snel en veel leert. Na een week heb je een wereldwijd erkend skydive brevet in de pocket en ben je wegwijs in de lucht.




Tweede week: Surf – Surfen bij Pura Vida
Carves, slides, cutbacks, floaters, speed en adrenaline. Zomaar even wat feitjes van de experience die je in de tweede week gaat meemaken, want je gaat dan naar Pura Vida in Mimizan.

Wat ga je hier leren en beleven? Dat surfen meer is dan rijden op een golf, het is een levenshouding, een spirituele beleving, een subcultuur en een eindeloze zochttocht naar perfectie. Maar vooral, surfen is cool.

Je wordt verwelkomd door Sven en Elles. Zij vormen het hart van het Pura Vida-team dat garant staat voor een onvergetelijk verblijf in Mimizan.




Vakantie data
Je kunt bij ons een Surf & Durf vakantie boeken van 1 juni tm 21 september 2019.

BOEKINGSPERIODE

01-6-2019
08-6-2019
15-6-2019
22-6-2019
29-6-2019
06-7-2019
13-7-2019
20-7-2019
27-7-2019
03-8-2019
10-8-2019
17-8-2019
24-8-2019
31-9-2019
07-9-2019
14-9-2019
Je ideale vakantie
Zelf je avontuurlijke Surf & Durf vakantie samenstellen is nog nooit zo eenvoudig geweest! In slechts enkele stappen kun je bij Airboss jouw reis samenstellen en kiezen uit verschillende onderdelen, zodat jouw reis aansluit op je persoonlijke wensen.


Voorwaarde voor deelname
VOOR WIE?

Ben je avontuurlijk of sportief en heb je een normale conditie
dan kun je deelnemen aan de skydive opleiding.

LEEFTIJD
GEWICHT
MEDISCH
Airboss Skydiving
Our Skydive Camp is located outside Mimizan, but while skydiving you will have a magnificent view of the Atlantic Ocean. Our Skydive Camp breathes a great atmosphere, making everybody feel at home. It is a wonderful and inspiring place to do your skydive course. So many different people sharing the same special passion creates a bond.
Everything on the camp is within walking distance. That is ideal, because from your bed you walk in a few steps to the plane. You can also chill out with your skydive buddies in one of the hammocks at the bar.


Your stay at the Skydive Camp
You can pitch your own tent or book a 4-person room in the bunk house. The Skydive Camp has a restaurant serving fine meals. If you want the ease of the all-in package, you can have breakfast, lunch and dinner. Would you like to choose your own meals? That is possible as well. No problem.


Stay outside the Skydive Camp
Some participants prefer to stay outside the Skydive Camp. That is not a problem, because there is a lot of accommodation available in the area.
You have to book this yourself. Mimizan is a busy resort, so book on time! Below are a number of websites:







Relax and enjoy
Of course besides skydiving there is time enough to relax. You can explore the surrounding area, enjoy the local terraces or make a day trip to the Spanish city of San Sebastian, where you will find the best tapas. Or you just stay around and relax at Mimizan's stunning beaches.
---
Accessibility

By bus
From the Netherlands or Belgium
If you do not have your own transport, but you want to come to Mimizan to participate in one of our courses, you can book a bus trip. A Tourist Class bus departs from the Netherlands and Belgium on Friday afternoon / evening. On Saturday morning you arrive in Mimizan. The bus returns one week later on Saturday evening. You arrive on Sunday morning in Belgium or the Netherlands.
From June 21 to September 20.
Departure places: Amsterdam, Utrecht, Den Bosch, Breda, Antwerp, Gentbrugge.
---

By air
Travel by air is a very good alternative to reach your destination within a few hours. From various airports in Europe a number of airlines offer daily flights to Bordeaux. From Bordeaux Airport you take the bus to the train station from where your train will take you to Labouheyre in 47 minutes.
And there we will pick you up.
---

By car
Depending on where you leave from it will take you from 10 to 12 hours to cover the 1.000 to 1.200 km.
---
Questions about skydiving in Mimizan
Despite trying to make the information about skydiving in Mimizan as complete as possible, we can imagine you might have questions. Don't hesitate to send us a message. We are happy to help you.
Pura Vida
Pura Vida is the Costa Rican way of saying life is meant to be enjoyed. Get over to France and discover it yourself on a surf holiday along the Atlantic coast.


Mimizan Plage
Are you 21+ and looking for sun, sea, nature and beach? "Bienvenue à Mimizan" in the Landes, on the Atlantic Ocean in the southwest of France.


Enjoy
Find for yourself the right balance between enjoying the good life and the action that takes place in Mimizan Plage. If you want to learn how to surf, Pura Vida is the place to be. As an officially recognized surf school we teach surf lessons at different levels. Can you surf already? Come to Mimizan and check out the sandbanks that keep the perfect waves running. Especially in the morning.


Relax Lounge Area
Nice comfortable bean bags in a unique surfy decor provide the relaxed atmosphere and is the ideal place to share time with others or to enjoy your own peace and space. Board games and a library keep the boredom far away.




Garden Area
The lodge is surrounded by a huge common garden area with (heated) eco swimming pool facing south. This means constant sun! If you are looking for shade you will find more than enough sheltered spots. The garden is equipped with bean bags and hammocks to relax in. The outside solar shower is perfect to rinse off after a surf session. At night we light the campfire, where you can enjoy a cold drink and talk about your day with the other guests. We limit the number of guests to ensure a relaxed vibe in the lodge.


Ontbijt
Every morning you will wake up with a delicious and healthy breakfast buffet in the sunny garden. The products that we use are fresh and every day we surprise you with a special (so we are not telling you about it yet!).


Diner
Every night you have the choice, indulging yourself with a self made dinner or going out and letting others cook for you? At the Lodge or in the village? Early or late? It is whatever you like best, after all it is your holidays!


Dates and prices 2019
BOOKING PERIOD

01-6-2019
08-6-2019
15-6-2019
22-6-2019
29-6-2019
06-7-2019
13-7-2019
20-7-2019
27-7-2019
03-8-2019
10-8-2019
17-8-2019
24-8-2019
31-9-2019
07-9-2019
14-9-2019

FIRST WEEK – SKY

7 days – Skydiving Accelerated Freefall (AFF) – €1245

INCLUDED
Theoretical and practical lessons
6 AFF jumps with instructor
All jumps from 14.000 ft.
7 days coaching
State of the art equipment
Radio guidance; descent and landing
Video analyses
License accredited world wide
Parachute packing
Free jump
Free video images on USB stick
Wifi

SKY OPTIONS

STAY SKY
Tent (bring your own) – €5 p.d.
Bunkhouse (4 person room) – €14 p.d.

SKY ALL-IN FOOD
3 provided meals – €29 p.d.

ADDITIONAL JUMPS
Do you want to make additional jumps after the course? No problem. You pay €47 per jump. Includes: Jump, material and packing.

Additional jump with own material € 28

SECOND WEEK – SURF

7 days – Surfing – €730

The indicated price is an average. The price is lower in low season. After you have booked you will be informed about the exact amount.

INCLUDED
7 nights stay (shared or double room)
8x breakfast and 5x dinner
6 hours of surf lesson (for beginners and advanced)
Surfboard and wetsuit
Bodyboards, skateboards, longboard skates
Your own beach cruiser (bike) with board racks
Free coffee and Herbal Tea, all day
Wifi
Use eco-pool in the relax garden

Transport

BY BUS (return) €169
Departure places: Amterdam, Utrecht, Den Bosch, Breda, Antwerp en Gentbrugge
Available data bus trip: From June 22 to September 21.
Booking
Would you like to go to Mimizan to learn Skydiving en Surfing? Select the Sky and Surf course and the preferred date on the right. Make a choice for your stay and whether you want to use the bus trip and the all-in food package.
After booking you will receive the confirmation / invoice by mail. The payment terms are stated on this invoice.