Learn to skydive with an AFF course!
Are you a discoverer who wants to fulfill his dream?
Do you like the feeling of freedom? Do you want to learn how to skydive in a week?
Then Airboss has the holiday for you.
Who can do it?
Skydiving is for adventurous and sports people. So it's for you!
Feel alive
Skydiving with Airboss gives you the maximum experience in a relaxed environment.
Free jump and video
After your course you receive a free jump, all filmed jumps on a USB stick and a license with Worldwide accreditation.
Personal coaching
Airboss courses are safe. Our instructors will give you personal coaching.
Worldwide license
With the skydive license that you get you can skydive worldwide.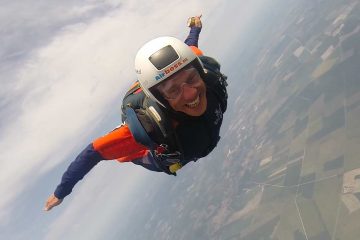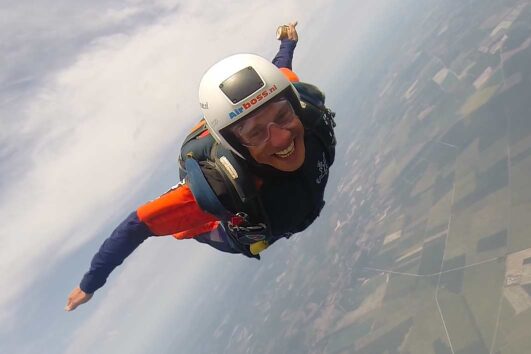 Is skydiving on your bucket list? You don't need any prior experience for a skydiving course. In six freefall jumps, we'll teach you everything about this breathtaking sport! As a bonus, you'll receive an extra jump and all the video footage of your training. The skydiving license you'll obtain will allow you to skydive worldwide and is the cherry on top of an unforgettable vacation.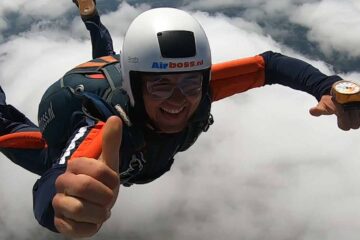 With the Airwareness training, you take it to the next level. You make a total of 25 jumps. You start with no experience, and we guide you to become an advanced skydiver with a recognized Dutch A-license in your pocket. Richer in experience and all of this in just 2 weeks. Airwareness offers the complete package.
You are already a skydiver and you want to learn how to skydive as a pro. You will learn more at the Airboss Academy. Join us! A week of intensive skydiving and at the end of the week you go home with the A-License. Because of the relaxed atmosphere and the practical learning by doing approach, you will experience a great skydive vacation.
Do you want to experience an unforgettable vacation this summer? Then book a skydiving course to one of the best summer destinations in France. Mimizan, located on the Atlantic Ocean, enchants with its beautiful wide sandy beaches and delightful summer climate. Sun, sea, and learning to skydive. A vacation you will never forget.
Senegal, the perfect winter sun destination for an unforgettable skydiving vacation. In just one week, you'll learn to skydive at a breathtaking location. Sun, culture, recreational activities, and exciting excursions make up the ideal blend for a fantastic skydiving adventure.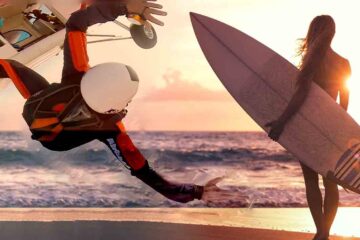 Surf and Dare offers a two-week adrenaline-filled experience where you learn the art of surfing and skydiving. Top vacation in France. The combination of the two elements: air and water, ensures an unforgettable holiday in Mimizan, France.
For more information or booking...
Reviews
Weer een super tijd gehad..
Sjon en dennis bedankt!!!!!!!!
Naar huis met me a en b bevret en 56 sprongen gemaakt :)
Hou van jullie, tot volgend jaar!!
Wat begon als een zoektocht naar de sensatie van het skydiven, veranderde al snel in een hele week vol plezier. Deze ervaring bood zoveel meer dan ik had verwacht. Naast de adrenaline van het skydiven en mijn AFF brevet, kwam ik terug met geweldige herinneringen, nieuwe vriendschappen en een gevoel van vakantie. Deze week had zowel vele letterlijke als figuurlijke hoogtepunten (Dennis' t-shirts) die me nog lang zullen bijblijven.
Sjon en Dennis bedankt en tot volgend jaar!
Mailing list
Receive our newsletter with offers and new trips.