Learn to skydive with an AFF course!
Are you a discoverer who wants to fulfill his dream?
Do you like the feeling of freedom? Do you want to learn how to skydive in a week?
Then Airboss has the holiday for you.
Who can do it?
Skydiving is for adventurous and sports people. So it's for you!
Feel alive
Skydiving with Airboss gives you the maximum experience in a relaxed environment.
Free jump and video
After your course you receive a free jump, all filmed jumps on a USB stick and a license with Worldwide accreditation.
Personal coaching
Airboss courses are safe. Our instructors will give you personal coaching.
Worldwide license
With the skydive license that you get you can skydive worldwide.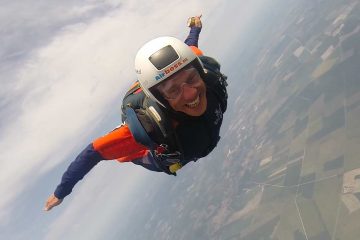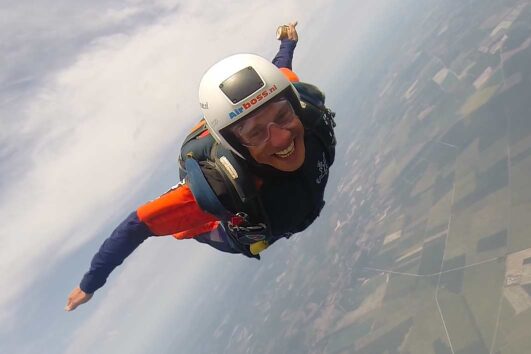 So skydiving is on your bucket list? For an AFF course you don't need experience. In only 6 jumps you learn all that is needed in Skydiving to get your license. Yeah! And we will even give you a free jump and all video images of your jumps. The Dutch license which enables you to skydive all over the World is the reward for a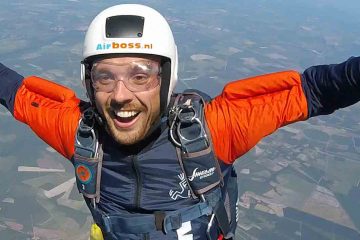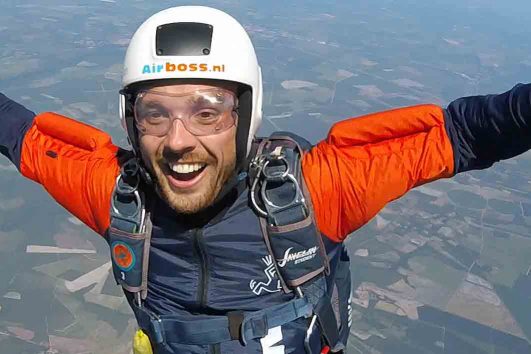 The Airwareness training goes a step further for those who want to learn how to skydive. You make a total of 25 jumps. So cool! From beginner without experience in skydiving to advanced skydiver with a beautiful A-License ... and that within 2 weeks. A comprehensive package where you also get a free jump and all video footage of your jumps.
You are already a skydiver and you want to learn how to skydive as a pro. You will learn more at the Airboss Academy. Join us! A week of intensive skydiving and at the end of the week you go home with the A-License. Because of the relaxed atmosphere and the practical learning by doing approach, you will experience a great skydive vacation.
Do you want a fantastic holiday this summer? Then book your skydive course to one of the very best summer locations in France. Mimizan is located at the Atlantic coast, has beautiful wide sandy beaches and a wonderful summer climate. Sun, sea and skydiving. The recipe for an unforgettable holiday.
Senegal, the ideal winter sun destination for a skydive holiday. In a week you learn skydiving in a beautiful location. Sun, culture, recreational activities, excursions are an ideal cocktail for a fantastic skydive adventure.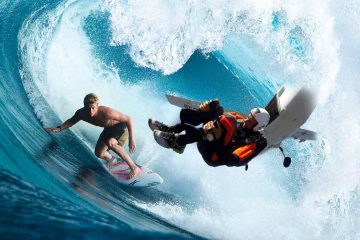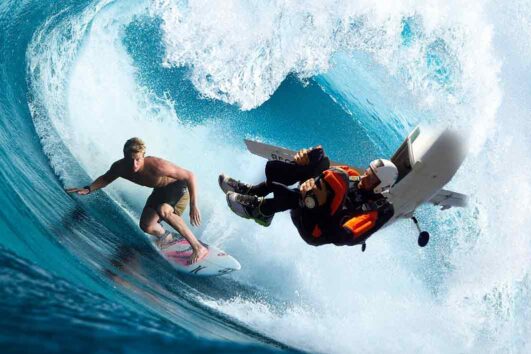 Sky and Surf is an adrenalin experience of two weeks in which you learn surfing and skydiving. Top holiday in France. The combination of the two elements: air and water, guarantee an unforgettable holiday in Mimizan, France.
For more information or booking...
Reviews
Ik kan de bovenstaande reviews alleen maar onderschrijven. Ik ben dit weekend teruggekomen van een week springen in Frankrijk (september 2019), voor de AFF cursus en daarna nog een aantal solosprongen. En het was geweldig! Sjon is niet alleen een zeer ervaren skydiver, maar ook een heel goede leraar. Hij ziet direct waar je aandachtspunten liggen en weet deze ook heel duidelijk over te brengen. Hierdoor boek je zeer snel progressie. Bovendien is de locatie ook goed, met lekker eten, leuke mensen, en vrijwel altijd goed springweer. Ik ga hier zeker terug komen!
de titel 'from zero to hero' is niet gelogen. Na twee weken heb ik bij Airboss niet enkel mijn AFF- maar ook mijn A-brevet gehaald. Alles gekaderd in een logische, toegankelijke, makkelijk te volgen opleiding. Een opleiding die de perfecte middenweg is tussen twee brevetten halen, en tevens de ontspanning en recreatie van op vakantie bieden.
Fijne instructeurs, fijne dropzone, fijne sfeer voor, tijdens, en na het skydiven, kortom een leuke vakantie tout court.
Mij ga je alvast nog zien op Airboss vakanties, en ik kan iedereen die écht avontuur begeert alleen maar aanraden om hetzelfde te doen!!!
Mailing list
Receive our newsletter with offers and new trips.