Learn to skydive with an AFF course!
Are you a discoverer who wants to fulfill his dream?
Do you like the feeling of freedom? Do you want to learn how to skydive in a week?
Then Airboss has the holiday for you.
Who can do it?
Skydiving is for adventurous and sports people. So it's for you!
Feel alive
Skydiving with Airboss gives you the maximum experience in a relaxed environment.
Free jump and video
After your course you receive a free jump, all filmed jumps on a USB stick and a license with Worldwide accreditation.
Personal coaching
Airboss courses are safe. Our instructors will give you personal coaching.
Worldwide license
With the skydive license that you get you can skydive worldwide.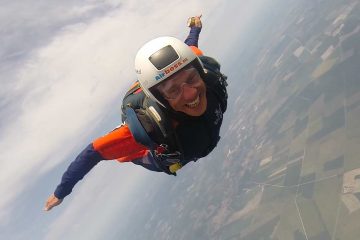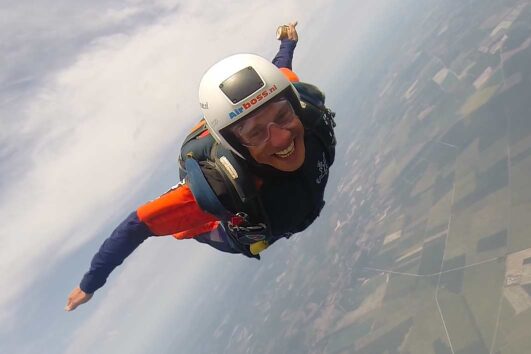 So skydiving is on your bucket list? For an AFF course you don't need experience. In only 6 jumps you learn all that is needed in Skydiving to get your license. Yeah! And we will even give you a free jump and all video images of your jumps. The Dutch license which enables you to skydive all over the World is the reward for a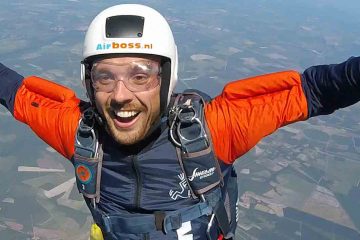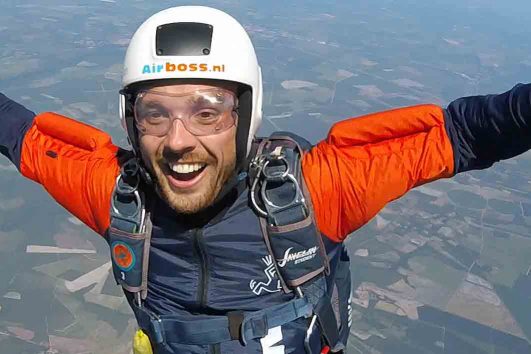 The Airwareness training goes a step further for those who want to learn how to skydive. You make a total of 25 jumps. So cool! From beginner without experience in skydiving to advanced skydiver with a beautiful A-License ... and that within 2 weeks. A comprehensive package where you also get a free jump and all video footage of your jumps.
You are already a skydiver and you want to learn how to skydive as a pro. You will learn more at the Airboss Academy. Join us! A week of intensive skydiving and at the end of the week you go home with the A-License. Because of the relaxed atmosphere and the practical learning by doing approach, you will experience a great skydive vacation.
For more information or booking...
Reviews
Begin September ben ik voor de tweede keer naar Mimizan afgezakt om te springen met Airboss. Op de dropzone zijn alle voorzieningen aanwezig (eten, drinken en slapen) en ook het centrum van Mimizan en het strand zijn niet ver af. Door het goede weer in deze regio kan er iedere dag gesprongen worden. En met Sjon en Rod als instructeurs kan je beroep doen op zoveel ervaring dat je sowieso iedere sprong weer bijleert.
Zojuist teruggekomen van 2 geweldige weken in Mimizan. Veel sprongen kunnen maken met de professionele coaching van Sjon en Rod. De sfeer is heel relaxed op de dropzone mede door de gezellige groep springers en instructeurs, zowel van Airboss als OJB, die graag hun kennis met je willen delen en er alles aan doen om te zorgen dat iedereen zoveel mogelijk kan springen en zichzelf kan verbeteren. De faciliteiten op de dropzone (eten, drinken en slapen) zijn meer dan prima waardoor ik een geweldige tijd heb gehad en met A brevet naar huis ben gegaan! Thnx Airboss!
Mailing list
Receive our newsletter with offers and new trips.