Learn to skydive with an AFF course!
Are you a discoverer who wants to fulfill his dream?
Do you like the feeling of freedom? Do you want to learn how to skydive in a week?
Then Airboss has the holiday for you.
Who can do it?
Skydiving is for adventurous and sports people. So it's for you!
Feel alive
Skydiving with Airboss gives you the maximum experience in a relaxed environment.
Free jump and video
After your course you receive a free jump, all filmed jumps on a USB stick and a license with Worldwide accreditation.
Personal coaching
Airboss courses are safe. Our instructors will give you personal coaching.
Worldwide license
With the skydive license that you get you can skydive worldwide.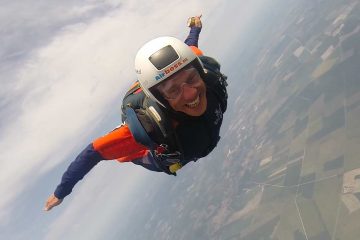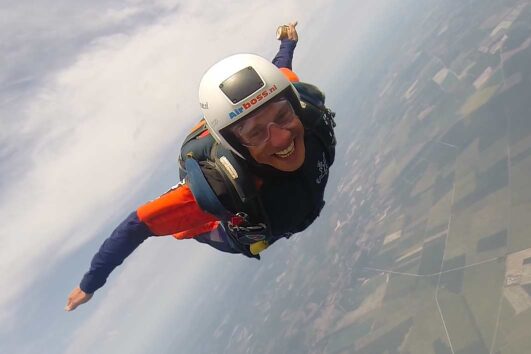 So skydiving is on your bucket list? For an AFF course you don't need experience. In only 6 jumps you learn all that is needed in Skydiving to get your license. Yeah! And we will even give you a free jump and all video images of your jumps. The Dutch license which enables you to skydive all over the World is the reward for a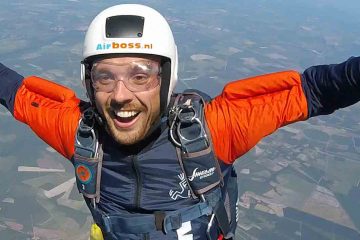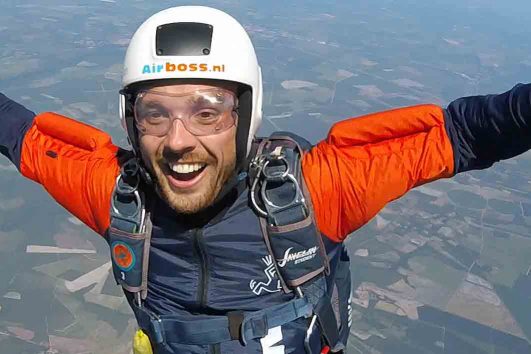 The Airwareness training goes a step further for those who want to learn how to skydive. You make a total of 25 jumps. So cool! From beginner without experience in skydiving to advanced skydiver with a beautiful A-License ... and that within 2 weeks. A comprehensive package where you also get a free jump and all video footage of your jumps.
You are already a skydiver and you want to learn how to skydive as a pro. You will learn more at the Airboss Academy. Join us! A week of intensive skydiving and at the end of the week you go home with the A-License. Because of the relaxed atmosphere and the practical learning by doing approach, you will experience a great skydive vacation.
Do you want a fantastic holiday this summer? Then book your skydive course to one of the very best summer locations in France. Mimizan is located at the Atlantic coast, has beautiful wide sandy beaches and a wonderful summer climate. Sun, sea and skydiving. The recipe for an unforgettable holiday.
Senegal, the ideal winter sun destination for a skydive holiday. In a week you learn skydiving in a beautiful location. Sun, culture, recreational activities, excursions are an ideal cocktail for a fantastic skydive adventure.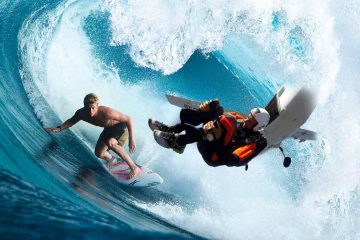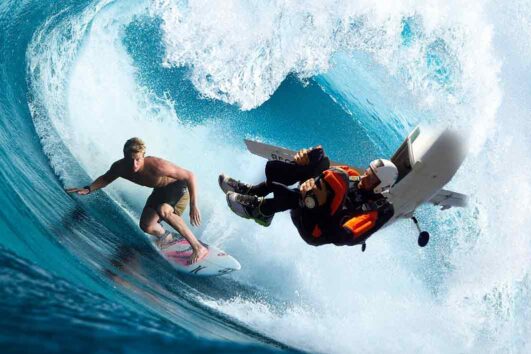 Sky and Surf is an adrenalin experience of two weeks in which you learn surfing and skydiving. Top holiday in France. The combination of the two elements: air and water, guarantee an unforgettable holiday in Mimizan, France.
For more information or booking...
Reviews
Wauw wat een ervaring! Na de eerste sprong was ik al verkocht. Zelfs de meest ervaren Skydivers die ik heb ontmoet in Senegal gaven aan dat dit een van de mooiste plekken is waar ze tot nu toe gesprongen hebben, wat een uitzichten!
Instructies van Sjon en zijn collega's waren heel duidelijk en leerzaam, met name door het analyseren van de videobeelden van de sprong. Het is ook fijn dat Sjon alles regelt en je er verder zelf weinig omkijken naar hebt. Zeker voor herhaling vatbaar en absoluut een aanrader!
Skydiven met Airboss in Senegal is een geweldige en onvergetelijke ervaring. Tropische temperaturen, gecombineerd met een Afrikaanse sfeer op een prachtige plek zorgen voor een unieke skydive ervaring en de perfecte manier om het jaar mee te beginnen. Verblijf, maaltijden, vervoer en de faciliteiten op de dropzone zijn allemaal goed geregeld door Sjon. Het enige wat je zelf moet doen is gaan en genieten!
Mailing list
Receive our newsletter with offers and new trips.