France, Senegal
Destination
6 AFF jumps with instructor
Personal coaching
License accredited world wide
Free jump
Free video images course
Freefall skydiving is fantastic!
The sensational feeling of a parachute jump from 4200 meters high, where you're racing downward at a speed of 200 kilometers per hour, is absolutely unforgettable. After 55 breathtaking seconds, you open the parachute and are treated to a breathtaking view while adrenaline courses through your body. Once safely landed, you realize that you've just had an experience that defies all imagination. Skydiving is truly fantastic!
Learn how to skydive
You want to learn how to skydive? We will train you with the Accelerated Free Fall (AFF) method.
This is a modern, safe and super fun skydive course during which you will receive personal coaching from your first jump to your license. You will learn a lot and you will learn it fast. After only a week you will have a Worldwide accredited license and you know your way around in the air.
Moreover, all your jumps are recorded on video, and last but not least, you even receive a free jump as a gift!
Accelerated Free Fall package
WHO CAN DO IT?

You have never made a skydive and you are adventurous and sportive?
You are welcome with us.

DURATIONS
INCLUDED

Theoretical and practical lessons
Radio guidance descent and landing
7 days coaching
Video analyses
6 AFF jumps with instructor
Parachute packing
All jumps from 14.000 ft.
License accredited world wide
State of the art equipment

BONUS

Free jump
Free video images course
The free fall course
You will make 6 skydives and we will be with you on every jump. Fully detached between heaven and earth, during 55 seconds of free fall, we will teach you the fine art of skydiving. We will coach you with
passion and enthusiasm. After your skydive we will debrief you and you can watch yourself on video.
AFF license
You will jump every day, which enables you to learn fast. Your skills rapidly grow and you will learn to enjoy your skydives even more. The next best moment is passing your exam after 6 jumps. You are a competent skydiver now with an accredited license.
Conditions of entry
| | |
| --- | --- |
| AGE | From 18 years to 55 years of age |
| WEIGHT | |
| MEDICAL | |
Destinations, dates, prices and booking
WINTER | Senegal SUMMER | France
9.00 AM – 17.00 PM: AFF training
Your Accelerated Free Fall course starts with ground school. During this first day you will get theoretical lessons and practical exercises. Essential techniques, such as maintaining a stable body position, checking your altimeter, mastering of important procedures and the right way to open your main parachute will be taught. You will also gain a good insight on how to control and land your parachute.

First skydive
You have completed ground school and are well-prepared. Together with two instructors you will go up to 4.200 meters. And they will guide and coach you from the very first to the very last second of your free fall, which lasts for about 1 minute. Once under your parachute we will guide you by radio until you are on the ground. Yeah! Your first skydive… This calls for a celebration!.
Second skydive
You debriefed your first jump with your instructor and have watched the video images. For your second skydive you will have a nice and easy task. Why? Because the second skydive is a repetition of the first. There maybe a few points of improvement but during this skydive we mainly want you to feel more free and at ease.
Third skydive
You have made your second skydive and your awareness grows. That is a good sign. It means you can do more exercises during your third jump and will enjoy your skydives even more. During this skydive, on guidance of the instructor, you will make 360 degree turns left and right. This is what we call heading control.
Fourth skydive
This is the jump the instructors look forward to. The fourth skydive. Most students think this skydive is the most memorable one of their course. After your exit from the aircraft you will make a triple forward loop after which, again on guidance of the instructor, you will make 360 degree turns left and right. How cool is that? You will start feeling like a real skydiver.
Fith skydive
The fun gets more and more. Why? Because you can do more. During this jump you will learn to fly on your back and how to do forward and backward loops in free fall. You will also learn to make a tracking. Or how to fly forward really fast. Like a rocket through the skies.
Sixth skydive
Your exam jump. During this jump you will show what you have learnt. And believe us when we say, it is be a lot after only a few days. You will surpass yourself and you'll be amazed. But above all you will discover that skydiving is the greatest sport there is. Did you pass your exam? You can now start your solo jumps. Congratulations skydiver!
Graduation AFF License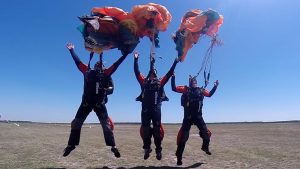 You want to make more jumps?
After your AFF graduation you can of course make more jumps. How many? As many as you want. No problem. You only pay per jump.