France, Senegal
Destination
6 AFF jumps with instructor
Personal coaching
14 solo skydives
5 jumps Formation Skydive
License accredited world wide
Free video images of the course/h3>
Skydive course Airwareness
From an absolute beginner in skydving to an Advanced Skydiver. Airwareness is the course of Airboss with which we teach you how to skydive to that level. You make 25 skydives in two weeks. With the final result … the A-License.

Airwareness package
FOR WHO?

You have never made a skydive and you are adventurous and sportive?
You are welcome with us.

DURATION
INCLUDED

Theoretical and practical lessons
Video analyses
14 days coaching
Radio guidance; descent and landing
6 AFF jumps with instructor
Packing lessons
5 jumps Formation Skydive
Study books A-License
14 solo skydives
Siminars A-License
All jumps from 14.000 ft.
A-License exam
State of the art equipment
A-License
License accredited world wide

BONUS
Accelerated Free Fall
You have never made a jump so your skydiving course starts with Accelerated Free Fall. You make 6 skydives and every time we go with you. During 55 seconds free fall we teach you the intricacies of skydiving.


Advanced Skydiver
When you are done with Accelerated Free Fall, you enter a new world. The world of the Advanced Skydiver. What are you going to do, among other things? We will go with you again, but now to teach you how to skydive with other skydivers. This is called Formation Skydive.

You will also receive orders from us in the air to better control your parachute. The remaining skydives that remain from your package? We challenge you to make unforgettable jumps with it.


A-License
That you are going to have fun in these two weeks that is for sure. But Airwareness also stands for quality and results, because after two weeks you have your A-License in your pocket.


Conditions of entry
| | |
| --- | --- |
| AGE | From 18 years to 55 years of age |
| WEIGHT | Maximum weight is 100 kg. |
| MEDICAL | |
9.00 AM – 17.00 PM: AFF training
Your Airwareness course starts with the ground school. During this first day you will get theoretical lessons and practical exercises. Essential techniques, such as maintaining a stable body position, checking your altimeter, mastering of important procedures and the right way to open your main parachute will be taught. You will also gain a good insight on how to control and land your parachute.

First skydive
You have completed ground school and are well-prepared. Together with two instructors you will go up to 4.200 meters. And they will guide and coach you from the very first to the very last second of your free fall, which lasts for about 1 minute. Once under your parachute we will guide you by radio until you are on the ground. Yeah! Your first skydive… This calls for a celebration!.
Second skydive
You debriefed your first jump with your instructor and have watched the video images. For your second skydive you will have a nice and easy task. Why? Because the second skydive is a repetition of the first. There maybe a few points of improvement but during this skydive we mainly want you to feel more free and at ease.
Third skydive
You have made your second skydive and your awareness grows. That is a good sign. It means you can do more exercises during your third jump and will enjoy your skydives even more. During this skydive, on guidance of the instructor, you will make 360 degree turns left and right. This is what we call heading control.
Fourth skydive
This is the jump the instructors look forward to. The fourth skydive. Most students think this skydive is the most memorable one of their course. After your exit from the aircraft you will make a triple forward loop after which, again on guidance of the instructor, you will make 360 degree turns left and right. How cool is that? You will start feeling like a real skydiver.
Fith skydive
The fun gets more and more. Why? Because you can do more. During this jump you will learn to fly on your back and how to do forward and backward loops in free fall. You will also learn to make a tracking. Or how to fly forward really fast. Like a rocket through the skies.
Sixth skydive
Your exam jump. During this jump you will show what you have learnt. And believe us when we say, it is be a lot after only a few days. You will surpass yourself and you'll be amazed. But above all you will discover that skydiving is the greatest sport there is. Did you pass your exam? You can now start your solo jumps. Congratulations skydiver!
Graduation AFF License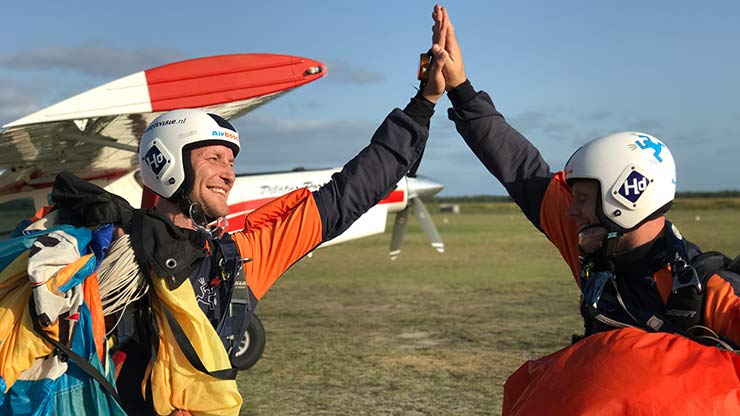 Formation Skydiving
In 5 jumps you learn the basics of the Formation Skydiving. The jumps give you a solid foundation to develop further. In a short time you make progress and learn essential techniques to achieve the best result during a Formation Skydive.
Canopy Control
You make 5 Canopy Control jumps. You will learn how to get more performance out of your parachute, fly safely with other jumpers in the air and make better landings.
Hop and pop
JYou make a jump of 4000 ft. Wait a few seconds and then open your parachute. The purpose of this jump is to feel how it is to jump from a plane at lower altitude.
9 solo jumps
With these jumps you can do whatever you want. You only jump for fun or you go skydiving with other skydivers to do a formation skydive.
Parachute packing
You will receive instruction during the training to be able to pack your parachute yourself.
Theory exam
For your A-license you need basic knowledge about: regulations, material, meteo and general knowledge. Study material is provided by us and we will help you through seminary. At the end of the week you do a theory exam.
You want to make more jumps?
After your AFF graduation you can of course make more jumps. How many? As many as you want. No problem. You only pay per jump.